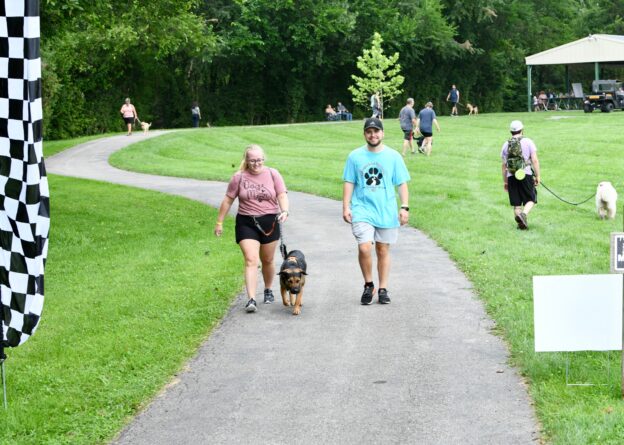 VENDOR OR RUNNER SIGNUP – CLICK BUTTON
Follow the event on Facebook
SCHEDULE
5K and Doggie 1 Mile
9:30 AM –10:30 AM – Runner Pack Pick Up / Day of Registration (stay &  tuned for dates for pre-race day pick up)
10:45 AM – 1 Mile  & 5K RACE LEAVES (with dogs)
11:20 AM – 5K RACE LEAVES (no dogs)
12:15 PM – RACE ENDS / AWARDS PAVILION
FESTIVAL
8:30 AM – Vendors Arrive
8:30 AM – 10:30 AM– Vendors Setup
10:00 AM – 4:00 PM – Dog Lure Chase Course – , $5 per dog ( 2 1/2 minutes), must sign waiver
11:00 AM – 4:00 PM – Festival and Market Opens
10:00 AM – 4:00 PM -Scavenger Hunt
12:30 -4:00 PM – Live music with Garry Jones
12:30 – 4:00 PM – Just Princess Things & Friends
1:00 -4:00 PM – Trunk N Treat with Vendors
11:30 AM – 12:00 PM –  Duck Herding fun
12:30 – 4:00 PM – Summit City Disc Dog Public Demo, Learn, & More
3:00 PM – Costume Parade with the Pooches
3:15 PM – Human and Doggie Costume Contest
4:00 PM – Festival Ends, Time for Clean Up.

Event Layout

Join us for the Huntington Trails &Trails Festival ,where a 5K & Doggie 3K are just part of the days events. The event will be held at Evergreen Park,  home to many newly planted trees , wildflower prairies, and views of the Wabash River. After the race join us for many fun filled activities that even your pooch can join in.
Awards for the top male and female finishers in the 5K  & Top 3 Dogs in the Doggie One Mile
5K Tails & Trails Race Route              1 Mile Tails & Trails Race Route
EACH RUNNER PAID ENTRY RECEIVES
Each human participant will receive a t-shirt and each doggie participant will receive a doggie goodie bag.
Advance Registration is $20 before the day of.
Early Bird & Student Pricing also available
Early Bird: March 01, 2023 – July 5, 2023
MUST REGISTER BEFORE SEPTEMBER 23 TO SECURE YOUR RACE T-SHIRT
Day of registration is $30

This is a non-timed event that will feature a 5K and Doggie 1 Mile
*ALL RUNNERS PLEASE BE AWARE THERE WILL BE  TWO DIFFERENT RACE TIMES.
RULES:
All dogs must be kept on a 6 foot leash (no extractable)and under direct supervision of an adult.
All dog waste must be picked up. Bags will be made available.
All dogs brought to the event must be current on vaccinations (including rabies).
All dogs must have current identification tags.
*PLEASE KEEP ALL DOGS AT LEAST 3FT AWAY FROM OTHER DOGS, UNLESS THEY ARE THE SAME GROUP*
FESTIVAL EVENTS
Free to attend for all ages, Fido is welcome on a 6ft NON retractable leash
5K & Doggie 1 Mile &  Dog Lure Course
Food Trucks,  Market Vendors, Family Fun Zone
Disc Dog Demonstration, Duck Herding Demonstration,  Summit City Disc Dog Play
Costume Contest & Parade  with awards
Trunk N Treat with Market Vendors
MARKET VENDORS
Tails N Trails 2023 Market Policy
Setup: 8:30 AM – 10:30 AM
Vendors pay $30 for each spot
Vendors keep all proceeds from their sales
Vendors will setup their operation from 8:30 am to 10:30 a.m. in the park and be ready to sell their product no later than 10:45 a.m. All vendors must stay for the entire duration of festival.
Electricity is NOT available, must be self-contained.
MUST PROVIDE THEIR OWN TENT, TABLES, & CHAIRS
VOLUNTEERS ARE NEEDED!
Race Crew, Water Stations, Race Registration,
Click here to signup
Tails n Trails Volunteer Info 2023 

FESTIVAL ATTENDEES
Food Vendors:
Food Trucks that have attended in previous years: Cluster Barn, Smoke Haus BBQ, Local Apple Cart, Smoking J's, Beached Boys Grill
Attending in 2023:
Market Shops:

There are over 30 market shops and counting attending the festival this year. Watch our facebook page as we drop them.

Thank you to all of our Sponsors:
SPONSORS:
Trail Master
Big E Promos
Flagstar Bank
Zach's Pet Services
MidWest Americal Federal Credit Union
Pathfinder Services
Pack Leader
Apollo Caster    Bippus Bank      PHD Inc.    Laggs Automotive

Trail Guide:
Blue Collar Mechanical & Construction LLC      E & B Paving

Water Aid Stations
 Zach's Pet Services

In Kind:
Just Princess Things     Three Rivers Running Company      Summit City Disc Dogs     Phil's U Pick Apple Orchard      HCCSC      Wings Etc
Course Host:
Huntington Parks & Recreation
Proceeds from event registrations and sponsors supports two wonderful local non-for-profit groups that are registered 501(c)3's, Huntington County  Humane Society and Huntington Area Recreational Trails Association (HARTA)