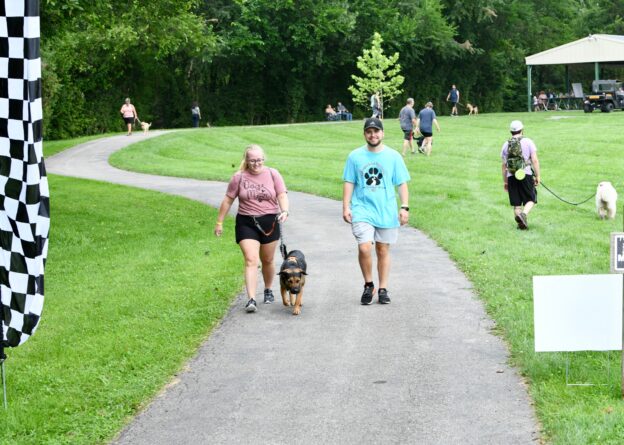 VENDOR OR RUNNER SIGNUP – CLICK BUTTON
Follow the event on Facebook
SCHEDULE
5K/1 Mile
10:00 AM –10:30 AM – Runner Pack Pick Up / Day of Registration (stay tuned for dates for pre-race day pick up)
10:45 AM – 1 Mile RACE LEAVES
11:20 AM – 5K RACE LEAVES
12:00 PM – RACE ENDS / AWARDS PAVILION
FESTIVAL
8:30 AM – Vendors Arrive
10:30 AM – Market and Fun Zone Open
3:30 PM – SILENT AUCTION ENDS
3:15 PM – 4:00 PM – Silent Auction winners Announced
4:00 PM – Festival Ends, Time for Clean Up.

Event Layout – updated layout coming soon!

Join us for the Huntington Trails &Trails Festival ,where a 5K & Doggie 3K are just part of the days events. The event will be held at Evergreen Park,  home to many newly planted trees , wildflower prairies, and views of the Wabash River. After the race join us for many fun filled activities that even your pooch can join in.
There will be awards for the top male and female finishers in the 5K & TOP 3 DOGS.
Tails N Trails Race Routes – updated race routes coming soon!
EACH RUNNER PAID ENTRY RECEIVES
Each human participant will receive a t-shirt and each doggie participant will receive a doggie goodie bag.
MUST REGISTER BEFORE SEPTEMBER 23 TO SECURE YOUR RACE T-SHIRT
Registration is $20 before the day of. Day of registration is $30,
Early Bird & Student Pricing also available

*ALL RUNNERS PLEASE BE AWARE THERE WILL BE  TWO DIFFERENT RACE TIMES.
RULES:
All dogs must be kept on a 6 foot leash (no extractable)and under direct supervision of an adult.
All dog waste must be picked up. Bags will be made available.
All dogs brought to the event must be current on vaccinations (including rabies).
All dogs must have current identification tags.

PLEASE KEEP ALL DOGS AT LEAST 3FT AWAY FROM OTHER DOGS, UNLESS THEY ARE THE SAME GROUP
This is a non-timed event that will feature a 5K and Doggie 1 Mile
Tails N Trails 2023 Market Policy
FESTIVAL EVENTS
Free to attend for all ages, Fido is welcome on a 6ft non retractable leash

5K & Doggie 1 Mile
Food Trucks
Market Vendors
Family Fun Zone
Dog Group Demonstrations
Costume Contest
Silent Auction
& More
MARKET VENDORS
Tails N Trails 2023 Market Policy
Setup: 8:30 AM – 10:30 AM
Vendors pay $30 for each spot
Vendors will setup their operation from 8:30 am to 10:30 a.m. in the park and be ready to sell their product no later than 10:45 a.m. All vendors must stay for the entire duration of festival.
Electricity is NOT available, must be self-contained.
MUST PROVIDE THEIR OWN TENT, TABLES, & CHAIRS

VOLUNTEERS ARE NEEDED!
Race Crew, Water Stations, Race Registration,
Click here to signup
Tails n Trails Volunteer Information/Duties – coming soon


FESTIVAL ATTENDEES
Food Vendors:
Food Trucks that have attended in previous years: Cluster Barn, Smoke Haus BBQ, Local Apple Cart, Smoking J's, Beached Boys Grill
Attending in 2023:


Market Shops:
Vendors that have attended in previous years:
Nessy's Nom Noms        Gilley Flower         Baubles by Mimi         Amy Scott Travel Agency     Family Crafts Creation LLC         Bark Attack Biscuits          BG Tumblers         Wessons Canine Bakery         Jodi Stouder Scented Memories          Oliver's Organic Dog Treatery          Lu Garden       Cassidy's Crafty Closet          The Zoomies Zone         Doggie O Delights     Jilli Designs Shop      Buddies Biscuits and Treats      Fort Wayne Pitbull Coalition      Art By Heather      Preferred Pet Grooming      Red Door Homestead     Girls on the Run     Stephanie Pape – Century 21     Pet Pals Country Club     Bug-A-Boo Country Creations    The Java Bean Cafe      Good Dog Goodies   Prints by Carrie Runyan    That Clever Bear     The Simply Crafty Lawyer   AM Embroidery & Promotions


Attending in 2023: Coming Soon

Thank you to all of our Sponsors:
RACE SPONSORS:
Top Dog:
Trail Master:
Pack Leader:
Trail Guide:
Mile Marker:
Water Aid Stations:
FESTIVAL SPONSORS:
Canine Showcase:
Family Fun Zone:
In Kind:

Course Host:
Huntington Parks & Recreation
All proceeds from the event supports two wonderful local non-for-profit groups that are registered 501(c)3's, Huntington County  Humane Society and Huntington Area Recreational Trails Association (HARTA)