7/15/2017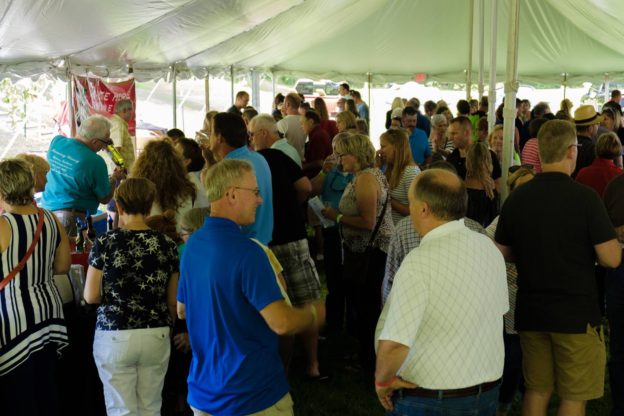 Wow what a great 2nd Annual Forks of the Wabash Uncorked held July 14, 2017! Everyone just raved how much they enjoyed the event and how much they are looking forward to next year's event. Guests enjoyed music from the Adam Strack Band, craft sodas from Antiqology, and food from Ragin' Cajun, Berg Ale Haus, Big Apple Deli, and Nick's Kitchen. They had the opportunity to sample brews from: Chapman's, Dark Horse Brewing, Sun King, and Yuengling. The guest also had the opportunity to sample some wonderful wines from across the state of Indiana. The wineries in attendance were: Country Heritage, Heagy Vineyards, Harmony, Two EE's, Running Vines, Whyte Horse, and Easley. New for this year were cider companies from: Ash & Alm, Angry Orchard, and Aftermath Winery and Cidery. The event raised a total of $11,500 to be split with the Huntington Area Recreational Trails Association (HARTA) and the Historic Forks of the Wabash. The funds will be used to aid in the maintenance and development of trails in Huntington County and to preserve and educate the area known as the Forks of the Wabash.
The success of the event would not have been possible without the Forks of the Wabash Uncorked chairmen, Kelly Frank and Liz Sanders, committee members, volunteers, generous sponsors, and silent auction donors. Kelly, Liz, and fellow committee members, and volunteers put in countless hours for the event. We cannot thank everyone enough for all their hard work and efforts.
Save the Date: July 13, 2018 – Forks of the Wabash Uncorked
Thank you again to all the committee members and volunteers.
Kelly Frank – Chairman and Liz Sanders – Co-chairman
Steve Hackler – Treasurer
Monday Morning Boys of the Forks
Jeff Webb, Eric Bruce, Tom Gates, and Dwight Brautigam – Parking
Natalie Brautigam, Randy Bellamy Jerry and Leah Helms – Shuttle Drivers
Jim Taylor, Susan Taylor, Evan Frank, and Dr. Janelle Maxwell – Silent Auction
Stephen and Vicki Gallagher – Photographers
Jodi Coblentz, PJ Eddie, Logan and Lindsey Patterson, Janelle Gates, Ben Davis, Dr. Matt Pflieger, Sheri Wilson, JJ Johnson, Marshall Sanders, Amber and Andrew Rensberger, Charlyne and Vince Wirtner, Chanda Shaw, Rob Miller, Pam & Jim Lewis, Steve Hackler, and Jim Hollar